Volunteer Time:
2006 (total): 103 days, 169 hours
2007 (total): 238 days, 425.75 hours
2008 (total): 104 days, 162.45 hours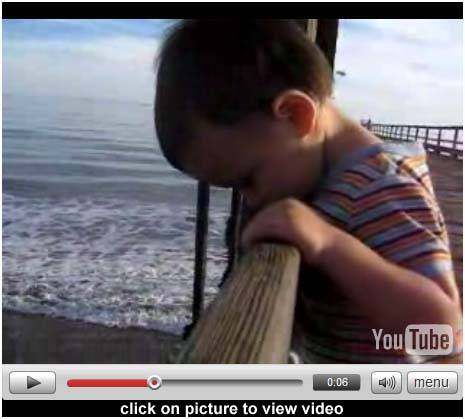 Another video but not of another pier jumper
This is young Aidan in a video made in February 2007 but just posted to the web. Of course the first thing I noticed is how clean the Pier and railings are. After scrubbing them daily for almost two years now I've developed a keen eye for that sort of thing <grin>.
Which made me feel kind of good as he suddenly leans down and appears to be mouthing the wood as kids will do! Aidan's parents created a video site on YouTube where they have deposited a total of 93 short videos of Aidan exploring his world ... many of
them shot right here at Goleta Beach!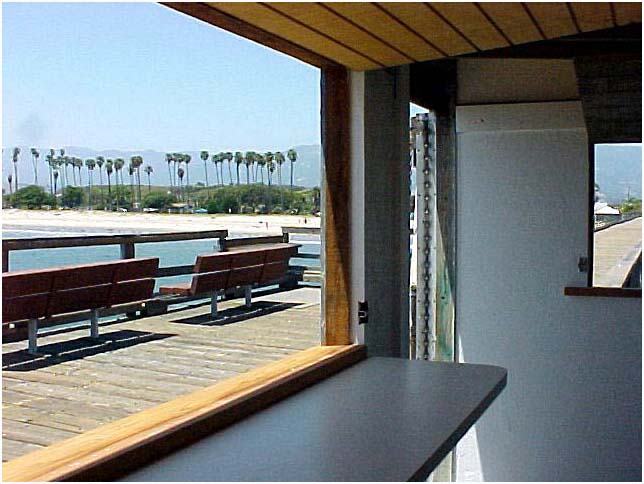 Something new with a view ... opening soon!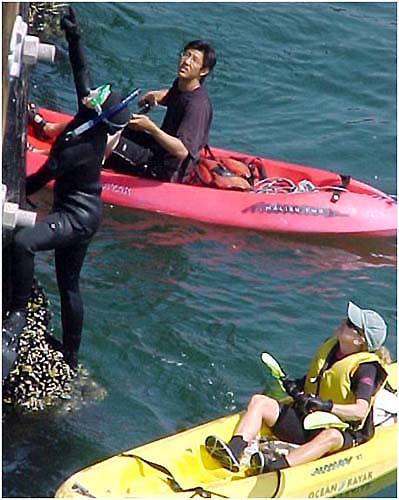 Jennifer Renzullo and her team from UC Davis's California Lost Fishing Gear Recovery
Project visited the Pier today for the second year in a row. They dove under the Pier to pick up lost crab nets, fishing poles and other articles on the bottom. They also worked on and around the pilings to remove entangled fishing line and hooks.
Last year they recovered quite an amount of debris but this year was noticeably different ... one lawn chair, a fishing pole, a single crab net and a handful of line.
Jennifer generously attributed the difference to the time that Fred Ledesma and myself have put in over the past year to remove discarded line and hooks from the topside of the Pier before they ended up in the water.
Personally I attribute it to the fish line recycle baskets installed both by Jennifer and United Pier and Shore Anglers of California (UPSAC) last year. The four baskets are quite popular and have been heavily used.
After their work was done Fred did a great job barbecuing the marinated tri-tip, mahi mahi and veggie burgers that they had brought ... sorry no pictures as I was too busy eating :)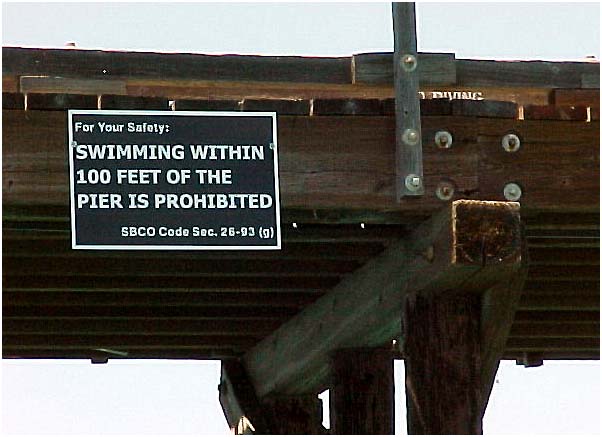 Prior to the beginning of the summer season I had a conversation with Jon Menzies,
County Aquatics Coordinator and Lifeguard Supervisor, about ways to improve safety on and around the Pier. One suggestion I made was regarding the necessity of additional signage to warn swimmers away from the Pier.
Today I happened to lean over the railing and noticed this recently installed sign as well as another on the other side. Wanting to get a picture I asked Shane Anderson, UCSB Diver/Collector, for help and he graciously offered a ride on one of the UCSB research boats that he operates off the Pier.
These signs are a welcome addition to the Pier and are much appreciated.
Also this afternoon ...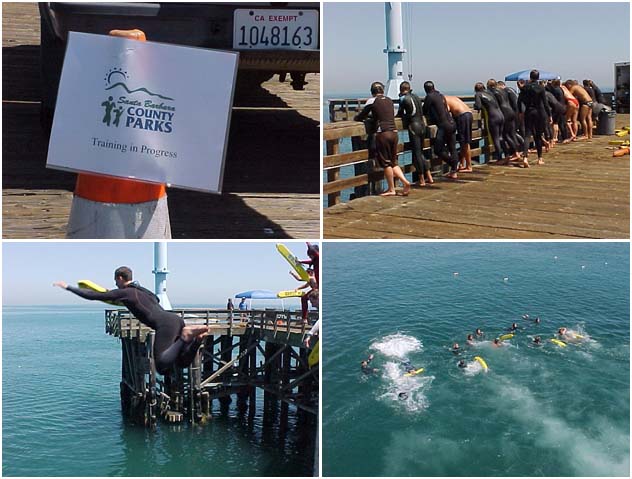 Jon Menzies conducted the annual Beach Lifeguard Training including pier jumps for a large number of lifeguards from UCSB and Hope Ranch as well as the County's own crew. The exercise was very well organized and the pier was cordoned off with traffic cones and appropriate signage.
As a result there was minimal interruption in the activities of the other users of the pier including a local engineering firm conducting underwater sonar tests at the hoist for the past week.
At the conclusion of the exercise the entire group swam the length of the Pier back to shore carefully observing the 100' foot restriction which was appreciated by the local anglers who have been enjoying a good run of halibut lately.


(Marine Sportfishing Regulations):
28.65. General. Except as provided in this article, fin fish may be taken only on hook and line or
by hand. Any number of hooks and lines may be used in all ocean waters and bays except:
(b) On public piers, no person shall use more than two rods and lines ...
This is an ongoing problem at Goleta ... currently with the nice runs of halibut and surfperch many anglers are tempted to skirt the regulations in the hopes of improving their catch rate.
Unfortunately, several years ago, a local angler asked a a DFG warden for clarification and misunderstood the response ... he was told that in any situation where a license was required he was free to fish as many poles as he desired. He interpreted that to mean that if he was displaying a license he could fish multiple poles on the Pier.
That interpretation has taken hold at Goleta and has proved extremely hard to correct.
Hopefully the word will get out before any citations are issued.


Santa Barbara's Popcorn Man


Everett Nicholin 1890 - 1980
One of my favorite childhood memories was of the 'Popcorn Man' at the foot of Stearns Wharf. I grew up on the Northside (San Roque) and we used to peddle our bikes or take the bus down to the waterfront for a day of fishing followed by take out hamburgers (toasted buns, cheese and Thousand Island dressing) at Sinceri's Restaurant on West Beach.
At the time Santa Barbara did not have air-conditioned malls and the Wharf, being over water, was our respite from the day's heat. I remember the pinwheels that he fastened to the top of his popcorn 'cart' - they rattled in the light breeze and their sound reinforced the image of the Wharf as being the coolest place around.
Seeing this picture, taken by my brother Gerald, I was struck by the fact that his trousers were freshly pressed every day as befitting the waterfront proprietor that he was. In his own way he was dressing for success - and what a success he was! It reminds me of the crease in my father's workman's chino pants and of my mother who would not let him or any of us out of the house unless we were presentable.
"He will always be remembered by those who had the opportunity to know him and to appreciate his presence." The link above will take you to an article commemorating his contribution to our community.
God bless you Everett, wherever you are. May you always have freshly ironed clothes and be surrounded by pinwheels, the smell of hot buttered popcorn and the voices of happy children.
You are sorely missed ...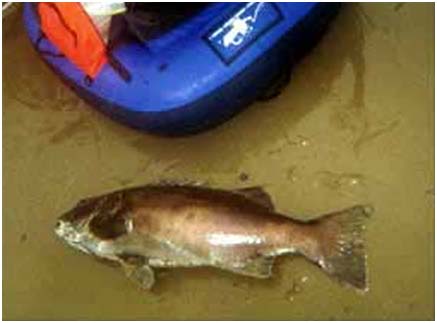 Black or Giant Sea Bass (Stereolepis gigas)