Volunteer Time:
2006 (total): 103 days, 169.00 hours
2007 (total): 238 days, 425.75 hours
2008 (total): 254 days, 641.85 hours
2009 (total): 166 days, 732.00 hours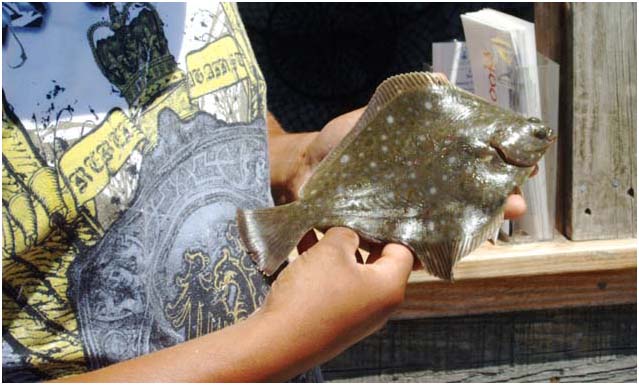 For the past couple of months I have heard about people catching and then releasing what they thought were undersized halibut ... problem was they were reported as being under twelve inches and I had never seen any halibut that small caught at Goleta. Suspecting what they were really catching were sole or other flatfish I was keeping a lookout.
Today Gino from Santa Maria brought this fish to the Angler Center to be properly identified.... thinking it might be another short halibut. After consulting several reference guides I determined it was actually a Diamond Turbot (Hypsopsetta guttulata)
which is the first one I have actually seen caught from the Pier. Based on the number of reports of similar fish being caught however I suspect we now have a healthy population.



Just a couple of pics of the visit today to GP by 22 young anglers from Carpinteria's
Girls Inc. They were jointly sponsored by the Carpinteria Sport Fishing Club, SB Sport Fishing Club, SB Bass Club and the SB Flyfishing Club as part of the United Way's
new fishing component, 'Fun in the Sun'.
Thankfully the baitfish were in and they caught a number of mackerel, sardines and
one 13" cabezon. They had brand new poles rigged hi-lo with squid and were all
dressed in matching t-shirts and hats.
I have to confess when I saw them descending on the Angler Center my first instinct
was to count the number of accompanying adults! But the outing was very well organized
and went off quite smoothly.