Model Pier Demonstration Project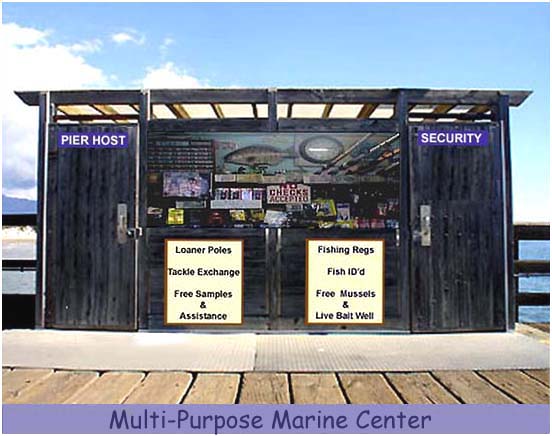 UPSAC's original intent was to literally establish a tackle shop for the 'rest' of us. We are pier and shore anglers in a a marine environment and supposedly outnumber boat anglers by a factor of 8 to 1. Yet you wouldn't know it when you shop in most tackle stores ... shrimp pumps, bait nets, sand spikes, crab snares, poke poles - all missing. And minimal choices in the rest of the pier & shore specific categories.
Several years ago at the Fred Hall Fishing Show I went to the Owner Company's booth for MutuLite #4 circle hooks and the rep actually asked me why I would want to use a hook 'that small'.
And another slight ... our new Maritime Museum here in Santa Barbara has an exhibit devoted to the history of the waterfront with absolutely no mention made of the more than 100 year old tradition of public pier angling at Stearns Wharf. Are we invisable or what?
What we were hoping to be able to do was to use a retail outlet coupled with an online presence to help educate the general public and the tackle industry to our unique needs as well as display some of the changes in tackle and gear we have made to mitigate our impact on the environment.
Difficult to sell as a commercial venture.
But the idea survives ... not as a retail activity but as an educational outreach venue in conjunction with UPSAC's model pier projects. Since we will need some space anyway for the various exhibits the rangers at Goleta half-seriously proposed we ask the County to allow UPSAC to take over the decrepit mid-pier bathrooms and redesign them for our purposes. Even though it was said in jest the more I thought about it the better the idea sounded.
I won't go into extensive details other than to say that the building (see picture) could be redesigned to resemble a typical pier baitshop ... with an interior devoted to educational exhibits, underwater monitors, industry sample give-aways, DFG booklets and handouts, fish I.D. cards, fish rulers, examples of environmentally sensitive pier riggings and tackle , loaner poles and tackle recycling, community bulletin boards etc.
Working with local teachers and environmental groups, the Center could host specialized educational presentations at the pier for students after school and during the summer.
The Center would be staffed on the weekends from 10am until 6pm and most weekdays during summer and holidays by myself or other UPSAC volunteers. At night we would hope to have paid security provided by either the county or through outside funding.
The intent is to monitor and mentor transactions at the pier to insure that all visitors are afforded a safe, pleasant, and hopefully educational experience.
The Center would become the central point of contact for all visitors to the pier ... a place where the general public and anglers in particular could learn about the local marine environment and the necessity of and techniques for minimizing our impact.
A unique feature of the center would be the provisioning of fresh mussels and live bait (as available) at no charge. Click on the link to see why.
Bookmark this page to follow future developments ...

---
Questions or comments? ... email Pierhead
Copyright © 2007 by Boyd Grant. All Rights Reserved